Guest Author - Deborah
Do you like to make chocolate candy or wish you knew how? This company has the answer! The
Bakers Cake & Candy Chocolate Melter
is the perfect size for melting just the right amount of chocolate to make a batch of chocolate covered candies, strawberries or cookies. Just use your imagination on the creations because the chocolate melter takes the worry out of the melting part of the process!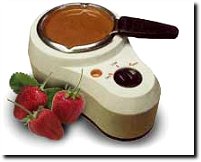 This Deluxe Chocolate Melter is simple to use. Just plug it in and fill it with chocolate to the fill line, let it do it's thing stirring once in a while and presto! ~ dipping chocolate ease! What better way to make gifts for the holidays and special occasions? It will even heat caramel. Each unit comes with two heart molds and two chocolate cup molds to get you started. It also features two heat settings so that you can be sure that your candy will not burn and holds a generous 1/2 pound of chocolate. Please note that compound chocolate is recommended as this melter is not made for tempering and the low setting is about 120 degrees which is too high for pure chocolate.
My children even love using this one because it has it's own melting pan that lifts out of the melter with a handle and a lip for pouring ease. They enjoyed the process as much as I did. I can imagine many uses for this versatile little machine. Why not keep warmed clarified butter for seafood or bread dipping oil right on the table?
While they cannot guarantee chocolate delivery during hot months of course they do offer that and more for your online ordering convenience including:
Milk Chocolate
Semi-Sweet Chocolate
Bitter-Sweet Chocolate
White Chocolate
Chocolate Liquor (Unsweetened Chocolate)
Compound Coating/Molding Chocolate
Sugar-Free Chocolate
Cookie Chips
Caramel
Cocoa
Flavoring Oils & Concentrates
Chocolate Molds
Hard Candy Molds
Candy Boxes
Candy Cups
Spices & Soup Bases
Hard Candy Supply
Nuts
and Kiss Paper
They also offer a full line of cake baking and decorating supplies, including ready-mix icings and decorating bags and tips, paste and gel food colorings, etc plus seasonal candymaking classes and are happy to offer pointers and suggestions upon request.
This company is based in Utah but provides online ordering and you can see more of what they carry at
www.bakerscandc.com
. If you are looking for a product to make working with candy and chocolate easier I would definitely recommend this one.